Diversity challenges and Stakeholders' engagement in Finance and FinAI
01.02.2023 @ 9:00 am

-

02.02.2023 @ 8:00 pm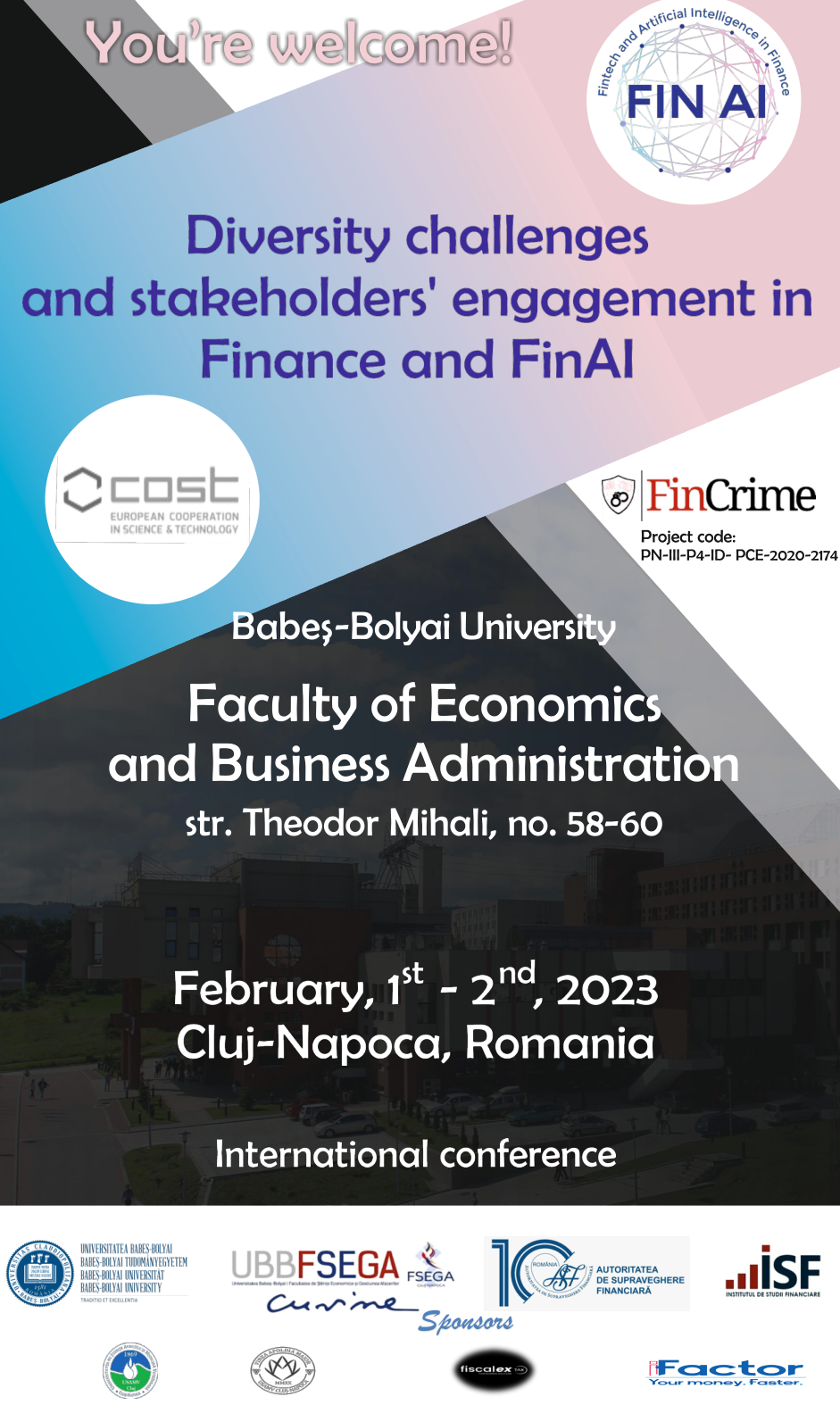 În data de 1-2 Februarie 2023, începând cu orele 9:00, Universitatea Babeș-Bolyai, prin Facultatea de Științe Economice și Gestiunea Afacerilor, este gazda conferinței cu titlul ,,Diversity challenges and Stakeholders' engagement in Finance and FinAI" organizată de Acțiunea COST CA 19130 FinAI – Fintech and Artificial Intelligence applied in Finance (https://fin-ai.eu/) și FINCRIME (https://fincrime.net/), în parteneriat cu Facultatea de Științe Economice și Gestiunea Afacerilor (FSEGA), Autoritatea de Supraveghere Financiară (ASF) și Institutul de Studii Financiare (ISF).
Vă invităm sa luați parte la acest eveniment în care teme de actualitate legate de Finanțele Digitale, sectorul FinTech, Analiza de Date, Inteligența Artificială și Machine Learning-ul applicate în Finanțe și FinTech, dar și probleme de diversitate în acest sector vor fi tratate de către cercetători, mediul de afaceri și autoritățile de supraveghere. Scopul final este construirea de parteneriate cu stakeholderii.
Vă rugăm să ne confirmați prezența dumneavoastră prin completarea formularului, accesând link-ul de mai jos:
https://docs.google.com/forms/d/e/1FAIpQLScUk1mOB2Wv6ujqGq8XrrG8dygoyeEJjrH9_LoZE6TOODVfag/viewform?usp=sf_link
Pentru susținerea diversității în cercetare și a tinerilor cercetători, am organizat o sesiune de comunicări pentru studenții de toate nivelurile care au interese de cercetare pe topicul conferinței. Așteptăm propunerile de prezentări (titlu și autori) până la data de 29.01.2023 pe adresele de e-mail monica.achim@econ.ubbcluj.ro sau alexandra.rus@econ.ubbcluj.ro.
Vă invităm și la două sesiuni speciale de educație financiară, organizate în parteneriat cu Autoritatea de Supraveghere Financiară și Institutul de Studii Financiare, pentru:
Studenți – Laboratorul Academic și SmartFin:
https://www.isf.ro/ro/seminar-de-perfectionare-vocationala-smartfinisf-si-laboratorul-academic-la-universitatea-babes
Înregistrare: https://docs.google.com/forms/d/e/1FAIpQLSeIqGjeQl-GlTjg8MeFyCSnSn8M9blFojNShDbu_cOWM0OE8g/viewform?usp=sf_link
IMM-uri – IMM HUB
Înregistrare: https://docs.google.com/forms/d/e/1FAIpQLSeIqGjeQl-GlTjg8MeFyCSnSn8M9blFojNShDbu_cOWM0OE8g/viewform?usp=sf_link